A versatile multi-tenant industrial complex ideally suited for office, manufacturing, logistics/warehouse hub or R&D centers.

Centrally located, with great access to key interstate highways, just minutes from Rt. 495, Rt. 130, Rt. 90/Turnpike, Rt. 93 and Rt. 95. This three-level property of 200,000 SF can accommodate the needs of any commercial and industrial tenant.

Property Description: 45,000+/- SF; Industrial, Commercial, Office. The area for immediate lease is located at the ground level, and includes recently remodeled 45,000 SF area, featuring full multi-zoned HVAC, 14 SF high ceilings, tailboared loading and 5,000 SF office space. Networked for high speed internet (T1 lines). Current tenants include, an electronic contract manufacturer and a design-engineering firm.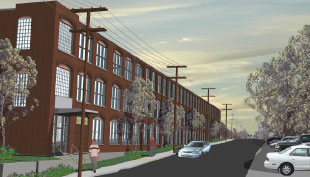 Building Size: 200,000SF

Land Area: 18 +/- Acres

Parking: 3.5 per 1,000 SF

Tenants: Industrial maufacturers





Leasing Space Available